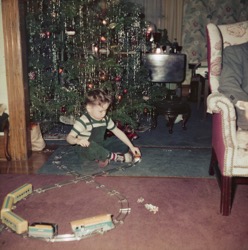 Merry Christmas and Happy New Year from our family to yours! We came across these classic pictures of Rob ("Robbie") and the family celebrating Christmas in the 1950s in Pullman, Washington. You are going to love them!
They include wonderful photos of Rob's first train set, opening presents with Grandpa James T. Robert, the extravagant and beautiful holiday table setting courtesy of Grandma Edythe and more.
We hope this brings back cherished memories for you and that you enjoy a wonderful holiday season with your family and friends!
Cheers!
Christine & Rob