From our family to yours
Celebrating more than 25 years as America's gourmet breakfast food company.
More
A Family Tradition,
100 Years in the Making
All of our products are time-tested family recipes that we have now shared with customers in all 50 states and numerous foreign countries. Our legions of faithful "oatmealaholics" have made us one of America's most successful gourmet breakfast companies.
And as Grandpa Roberts always said: "Remember: you only get out of your body what you put into it!"
Meanwhile, Back at the Ranch...
Connect with Christine & Rob's on Instagram!
Connect with Christine & Rob's
Free Shipping on All Orders
in the continental United States
All-Natural & Toasted to Perfection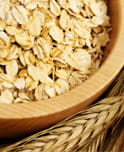 For more than two decades, Christine & Rob's oatmeal has been a part of breakfasts around the world.
It's slow-toasted like a gourmet coffee bean to bring about it's hearty, nutty, rich flavor.
Try it and you'll understand why our customers have been loyal "oatmealaholics" for years on end.
Read More >>