Northwest Jam Pack
1 / 12 oz. jar each of our famously fruity marionberry, strawberry and raspberry preserves.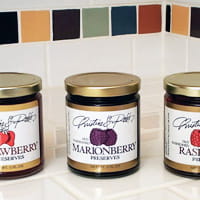 Meanwhile, Back at the Ranch...
Connect with Christine & Rob's on Instagram!
Connect with Christine & Rob's
Free Shipping on All Orders
in the continental United States
All-Natural & Toasted to Perfection
For more than two decades, Christine & Rob's oatmeal has been a part of breakfasts around the world.
It's slow-toasted like a gourmet coffee bean to bring about it's hearty, nutty, rich flavor.
Try it and you'll understand why our customers have been loyal "oatmealaholics" for years on end.
Read More >>